Radiofeature. Producer: Ulrike Toma. Director: Andrea Ghetto. 55 min. 29 October 2013, NDR Kultur, 20:00. By Thilo Guschas.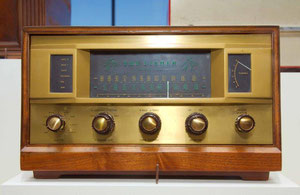 The voice in the kitchen.
When has radio last touched you, did you laugh or cry? Do you talk about radio, does radio occur in your dreams at night? Have you gained any insights on love, money, death? This feature deals with the magical process: the effect of the radio on the people. On 29 October 1923 radio broadcast startet in Germany. In this feature people talk about their radio life. For instance Anneliese from Ratzeburg. "Listening to the radio is resistance," she says. During WWII she listened to the radio stations of "the enemy." Today she likes programmes with traditional music and call-in shows. When Anneliese sits down in her kitchen and stirs the spoon in her tea cup, a voice speaks to her from the windowsill. In his allotment garden in Cologne, Eckhardt listens to a transistor device. "Listening to the radio is part of my personal history," he moans. When he was a child, the whole family sat together in front of the radio on Sundays. Then the relationship of his parents could not be repared anymore. Everyone startet to listen to the radio on their own, the family fell apart.
---